Many individuals want a big kitchen but believe they must demolish their home and start from scratch. Not everyone has this level of money or space for such an operation, however. Don't be concerned if you find yourself in this situation!
There are a few things you may do to make your little kitchen more practical and attractive. In this blog article, we'll share some fantastic ideas for designing a tiny kitchen without affecting your house!
Small Kitchen Storage: Clever Ideas for Narrow Spaces
Many individuals discover that having a tiny kitchen is challenging. The key to overcoming this issue is to seek solutions that help you eliminate unnecessary items and merge what's remaining into something smaller.
There are a number of strategies to get there, but one of the finest is to utilize pull-out painted cabinets, so you don't have big appliances cluttering up your counter space. This is an excellent approach to recycling old refrigerators, stoves, and other large machines, as well as tiny gadgets like microwaves or blenders.
You may also use under-the-counter baskets or shelves if you don't want to change the style of your cabinet.
Designing Your Kitchen Cabinets for Function and Beauty
There are different cabinet design alternatives to select when creating a new kitchen or upgrading an old one. The essential thing to remember is that the cabinets should be valuable and attractive. Here are some suggestions to get you started:
Use glass cabinets if they are going to be used to display dishware or other items. This can help make the kitchen seem more extensive and more open.
Adding shelves and drawers to your cupboards will help you keep things tidy. Drawers, shelves, and spice racks might be utilized to keep things organized.
Choose a color scheme that complements the rest of the kitchen design. Colors can be more active or neutral to make a statement.
Consider the hardware that will be on the cabinets. A basic knob or handle is sometimes sufficient, but you may also want to consider something more ornate.
If you're considering remodeling your kitchen, consider repurposing some of the existing cabinets in a different way. You might make use of a cabinet that is too little to be used as a spice rack if you have one. You may also relocate a cabinet and replace it with one of our distinctive shapes if it is in an inconvenient location.
Use Cabinets and Shelves to Organize Your Kitchen
You must balance the limited vertical space with innovative ideas when designing a tiny kitchen. Adding bookcases and shelves is one of the most effective methods. Not only will they give you more countertop space and storage capacity, but they'll also add a beautiful aesthetic touch. Pull-out pantries are another approach to expanding storage options in a tiny kitchen without installing additional cabinets. Wall-mounted pantry cabinets are available in a number of styles and sizes, so you can select one that fits your design while still fitting within the constraints of the tiny area accessible.
Organize Your Kitchen for Better Efficiency and Clutter Minimization
In any tiny kitchen, no matter how tidy you are, there will always be some degree of clutter. The greatest method to eliminate mess is to keep everything in its place and use components that make things readily accessible.
Installing flat-open pull-out shelves on all sides, for example, will allow you to keep your pots and pans within easy reach while freeing up space for additional items. The open shelves instead of cabinets will also enable you to see what you have at a glance without having to dig through doors or drawers for things. If you can't decide on your kitchen remodeling style, we can help. We are only minutes away from this bus stop.
Maximize Your Tiny Kitchen: Clever Storage Ideas and Design Tips
Many people overlook one of the essential aspects of renovating a tiny kitchen: maximizing every inch. This doesn't imply you need to have a tiny sofa or television in the corner. It simply implies making use of any vertical regions, including walls and ceiling corners, that are accessible.
Shelving attached to the wall not only provides extra storage space for plates, glasses, and other objects but can also be used in a unique design element that utilizes difficult-to-reach regions. You may even convert them into little niches where you can keep books or display additional pieces of dining table artwork!
Make Your Tiny Kitchen Look Bigger Without Demolishing It
If you want to improve the look of your tiny kitchen without totally rebuilding it, one suggestion is to prioritize function over beauty. To put it another way, don't concern yourself with how things appear; instead, concentrate on providing usefulness and figure out how to make everything work. Many people are shocked to learn that design is designed to make life easier, which may seem contradictory.
Even if they are a professional designer or decorator, it's easy for people to become distracted by color palettes and materials without considering how their new arrangement will be utilized in practice. This is where we return to our original argument: avoid focusing on ornamental elements unless they provide some sort of practical advantage when attempting to remodel a tiny kitchen.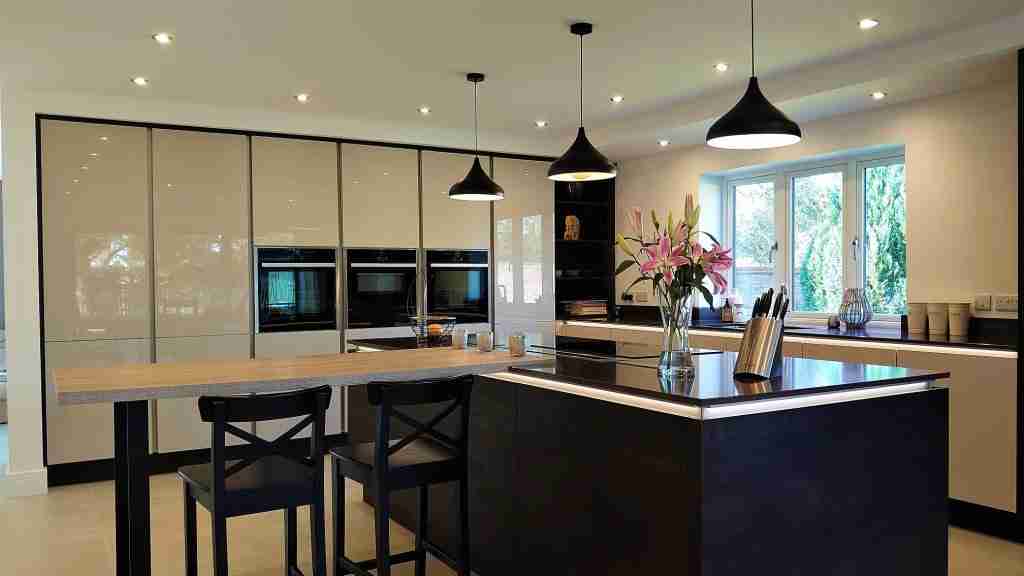 Expand Your Tiny Kitchen Without Sacrificing Storage Space
Make certain there's enough storage area for everything you'll need when expanding a tiny kitchen. This isn't only about storing dishes, silverware, glasses, and other things; it's also about making sure you can fit appliances like your oven, microwave, food processor, slow cooker, mixer, coffee maker(s), and toaster.
Instead of keeping your appliances in closed cabinets or drawers, consider placing them on the countertop where they're easily accessible. A countertop oven with propane or open burners is a great way to prepare several dishes at once for larger meals.
Create an Adequate and Stylish Tiny Kitchen on a Budget: Tips from an Amateur Designer
Even if you have little design knowledge, there are certain standards that everyone should follow when creating their own tiny kitchen. The first restriction is to avoid using too much color or decorative elements. If you're not a professional interior designer, it might be tempting to use a plethora of color schemes and decorations in your tiny kitchen. This will just make your little kitchen seem chaotic, though a few strategies to improve your house will truly help you rather than harm you – for example, photos of friends and family.
Over-accessorizing is not necessary because you have a big house. If they aren't too prominent, they will give the illusion of greater space since most people have enough common sense to keep things tidy unless they are teenagers!
Second, wait a bit before purchasing every storage item that enters your head after reading about tiny kitchen design ideas. These kitchen equipment gadgets are fantastic for impressing your guests or extending the usefulness of your compact kitchen, but keep in mind that most people have little compact space to work with.
Increase the Efficiency of Vertical Storage
Even though utilizing all of one's vertical storage possibilities is what makes a kitchen genuinely valuable and efficient, many people underutilize them. In fact, in a tiny kitchen, you'll need numerous appliances, including a blender, juicer, drink mixer, electric kettle, and range/oven, to name a few.
This does not, however, imply you must store them in your cabinets; instead, look to incorporate these items into the design in some manner, such as attaching your blender or juicer to one of your walls with hooks where you may hang your utensils when they're not in use.
Make The Most of Your Walls and Ceilings
Hanging objects from the ceiling, such as pots and pans or even a rack for drying dishes after they've been washed, is a fantastic method to personalize your tiny kitchen. If you're running out of small spaces on your counter, this may be the answer; plus, having everything at eye level when you need it is convenient.
Consider installing open shelving where you can keep all of your knickknacks and other decorative things that wouldn't look out of place in a cabinet but might if you drilled holes into your walls (some people do, some don't). This will allow you to keep them close at hand, which is useful for unexpected visitors.
Make Your Equipment Run More Smoothly
Finding new and creative methods to make your equipment operate more effectively may be one of the most important aspects of any tiny kitchen design. Consider investing in a hand blender that may be used straight into a pot or bowl as required if you only use your blender a few times each year and it's inconveniently positioned on your countertop.
You may end up spending more than you would if you bought a basic blender, but it will give you greater flexibility since most high-end kitchens already have one. To avoid purchasing additional equipment, try to use the same equipment as bigger kitchens.
Make Your Stovetop Look Chic
Because most tiny kitchen setups include a stove, the most acceptable option is to select a gorgeous burner and range top coverings that will set your cooktop apart from the rest. This is simple since you can choose from a number of color options or even something with a thick metal finish – anything that will compare favorably to plain white or stainless steel.
Why not paint all of the components, including the walls and flooring, in your kitchen bright colors if you'd like to go above and above? – Several rooms appear more significant when they're painted in bright colors, which is something any homeowner should care about regardless of how big their kitchen island is.
Optimize Your Storage in a Small Kitchen
Whether you have a galley style or an open-plan design, every little kitchen should have storage for small areas. While it may appear unimportant at first sight, if you don't buy enough of the proper cabinet types, your cabinets will soon get clogged up, so what should you do?
Place an overhead white cupboard above your stove to store pans and pots that get used frequently. Of course, there is always the option of going for bespoke cabinets that take up too much room or cupboards linked to your walls or floors, both of which are popular among people who make use of every inch of their tiny kitchens.
Add Seating to Your Kitchen Without Taking Up Valuable Space
Of course, storage isn't the only factor to think about. Having a place for your guests to rest when dining or socializing with you after work is also essential. A breakfast bar and nook may be an excellent method to add extra seats without wasting valuable counter-top or cabinet space!
Because it makes individuals feel more at ease, but also because if guests are unable to locate a seat (or worse, they don't fit at all), this may result in your property being damaged and costing hundreds or thousands of dollars to repair, depending on how severe the damage is. People don't want their guests to be uncomfortable, so make sure there's enough space for everyone, whether in the main area of your kitchen or not.
How to Choose the Right Layout for Your Kitchen
When deciding between all the available layout options, there are a few things to keep in mind. Another thing to think about is where your sink will be, as some people want it situated alone against a wall or with another appliance nearby, while others prefer it on an island.
Consider how many appliances and higher cabinets are included in each alternative since some small kitchens don't have as much space for appliances as others. Finally, think about the type of flooring in your kitchen and whether you want it replaced; this may influence the design you choose.
Best Ways to Add Task Lighting in Your Small Kitchen: Under-Cabinet, Desk, and Recessed Options
If you're doing a tiny kitchen remodel, task lighting is an excellent accessory to have. Task lights are required for activities such as cooking and reading recipes. Task lights are often categorized into one of three categories: task lamps, desk lamps, or recessed fixtures with pointed lights.
The ideal location for task natural lighting is determined by your room's floor plan and natural light requirements. Because they enable users to move them as needed without requiring them to rewire or take down any downlights from their ceiling fixture, task lights are fantastic if you have a lot of additional counter and entire wall valuable storage space.
Under-cabinet lighting may also be a fantastic method to add more light to cabinets without having to install an overhead light fixture. However, if done incorrectly, under-cabinet lighting can be extremely hazardous.
A Pinterest search for modern and contemporary layouts is a safe bet since those designs are more likely to make efficient use of every bit of tiny dining space than other varieties.
Consider what you want from the modern kitchen island, as well: do you just need storage and a seat from time to time, or will this location be used more than usual? Perhaps you unconsciously recognized that this is a wonderful place to learn about the key elements. Others may use the same precious eating small space as you, so don't go all out for yourself now; keep everyone's needs in mind while making these decisions so no one is disappointed.
Consider each of these aspects before choosing a design to ensure that your ideal kitchen looks fantastic and is exactly what you want it to be without breaking the bank or taking up too much-living floor space. Don't forget to give all of them careful thought before making a final decision about which kind of layout would work best for you.